Overdue Megaquakes
Follow real time worldwide earthquake hazards program by USGS HERE.
US, Texas: Smaller Earthquakes Could Mean A Large One Is Coming
(May 2) In the past week, the El Paso region has had four earthquakes at least 4.2 in scale. Seismologist Aaron Velasco tells KFOX14 the earthquakes could foreshadow a large scale earthquake in El Paso. These earthquakes all happened in a remote area of Chihuahua, Mexico. They were still pretty close to the U.S. border.
US fear overdue megathrust earthquake will trigger tsunami and decimate unprepared cities on Northwest coast
(April 26) Cascadia fault line has lain dormant for 300 years Eruption could trigger tsunami, devastating seaside communities – and reach as far as Japan The north-west coast of the U.S. could be devastated by a huge movement of undersea plates known as a 'megathrust' earthquake. The horrifying possibilities have been brought to light by data researched by the Active Tectonics and Seafloor Mapping Laboratory at Oregon State University.
What is a 'Megathrust' earthquake?
* All six earthquakes with a 9.0 magnitude or higher since 1900 have been megathrust quakes
* They occur when a tectonic plate is forced under another
* Megathrusts are most common in the Pacific and Indian oceans
* The March 11 earthquake in Japan has been classed as a 9.0 quake and can be called a megathrust
*The 2004 Boxing Day tsunami, which killed over 230,000 people, was caused by a 'megathrust'
US California: Four Back-to-Back Earthquakes Hit Near Anza-Borrego Springs
Here's how the U.S.G.S. breaks down the science of the earthquakes on April 15:
4:47:25 a.m. – a 3.2-magnitude earthquake hit 14 miles from Anza
4:48:42 a.m. – a 3.0-magnitude earthquake hit 15 miles from Borrego Springs 4:48:52 a.m. – another 3.0-magnitude earthquake hit 16 miles from Borrego Springs
4:48:56 a.m. – the final 3.0-magnitude earthquake hit 14 miles from Anza
The depth of the quakes ranged from 3.4 miles deep to 5.7 miles deep.
Preparing for the Big Quake in Central US?
(April 17) A first-of-its-kind drill in the central U.S. will have millions of people simulating the shaking of "the big one." The Great Central U.S. ShakeOut is an earthquake drill that will be at 10:15 a.m. April 28 and is being organized by the Central U.S. Earthquake Consortium, the Federal Emergency Management Agency, the U.S. Geological Survey and dozens of partners.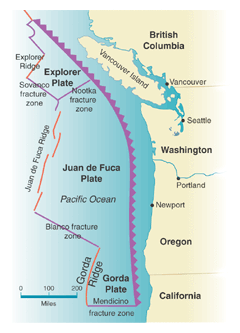 Canada's Next Big Quake is Overdue
(Apri 8) Now that science has proof of Cascadia's violent past, the odds are closer to 100 per cent. The first evidence of that violence appeared in legends passed down by the elders of virtually every native community from northern California to Vancouver Island – eerily similar stories of disaster on a winter's night "long, long ago." But nobody could pin down when it had happened.
(April 1) Collapsing roads in Oroville, California, less than four hours from the Pacific Ocean.
END TIMES TRUTH
Thus far, Satan has defended the USA against a major quake. The location of the next quake will follow a past sighting of the LOZ crafts over that area.  One MAJOR EARTHQUAKE in the USA – it will spell its final chapter. the United States will suffer a severe earthquake with numerous aftershocks. It will be the final blow that makes the USA unable to rear its head for recovery. Financial ruin and natural devastation will walk hand in hand with the country that claimed to be one nation under God but proved false to its claim and to the Power of Father. Satan's present throne of authority will fall to the wayside as he scrambles away to pick up momentum with the European Union.